Lafferty Foggers have long been used throughout the food and beverage industry to maintain sanitary production areas and prevent cross-contamination.
COVID-19 brought what were once considered industrial disinfection strategies into familiar daily locations, as preventing the spread of the virus became a critical consideration for businesses and institutions of all sizes.
Quick and effective chemical application are critical objectives for deep cleaning and daily maintenance. To support these missions, Lafferty offers a comprehensive range of foggers ranging from simple hose-end mist sprayers to complete central systems with multiple mounted foggers to disinfect large areas at programmable intervals.
Fogging can disinfect surfaces many times faster than hand wiping and is easy to incorporate into any new or established cleaning process.

Office Buildings
Schools
Medical Facilities
Warehouses
Manufacturing Plants
Athletic Clubs
Hotels and Resorts
Event Venues
Anywhere People Come Together
Validation Case Studies
Fogging with approved disinfectants can reduce organism counts by 50-99%, as validated by Adenosine Triphosphate (ATP) swab testing!
It is important to validate the results of fogging or any disinfection process. Data-driven feedback allows users to adjust their checklist and chemical application technique to ensure the best possible results.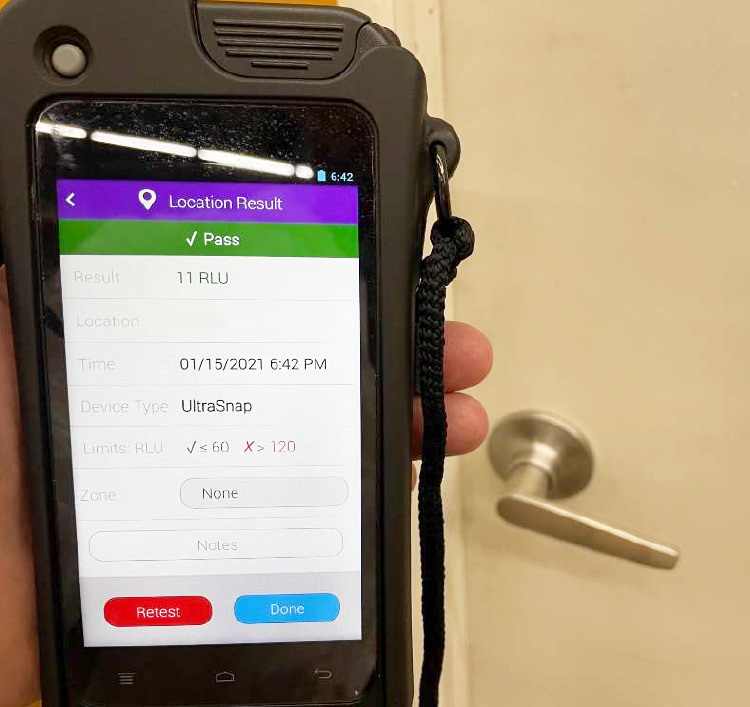 CASE STUDY #1
Warehouse, offices, and common areas
91% total microbe reduction!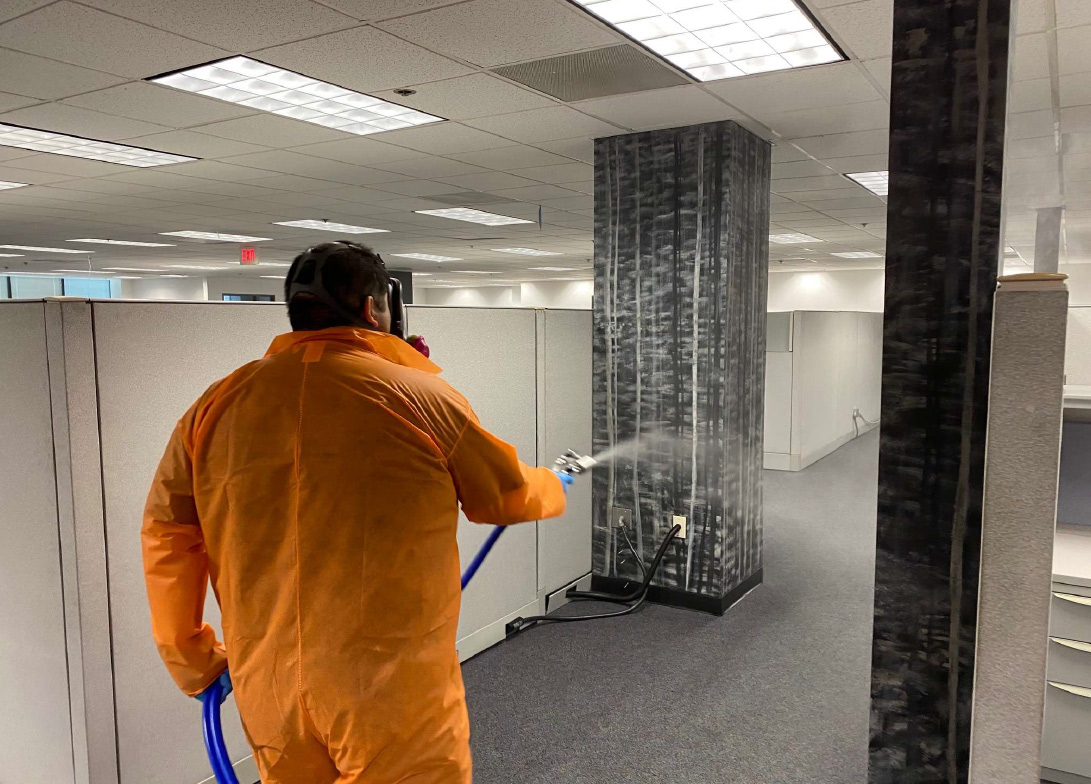 CASE STUDY #2
Offices and employee common areas
95% total microbe reduction!
Fogger Applications and Safety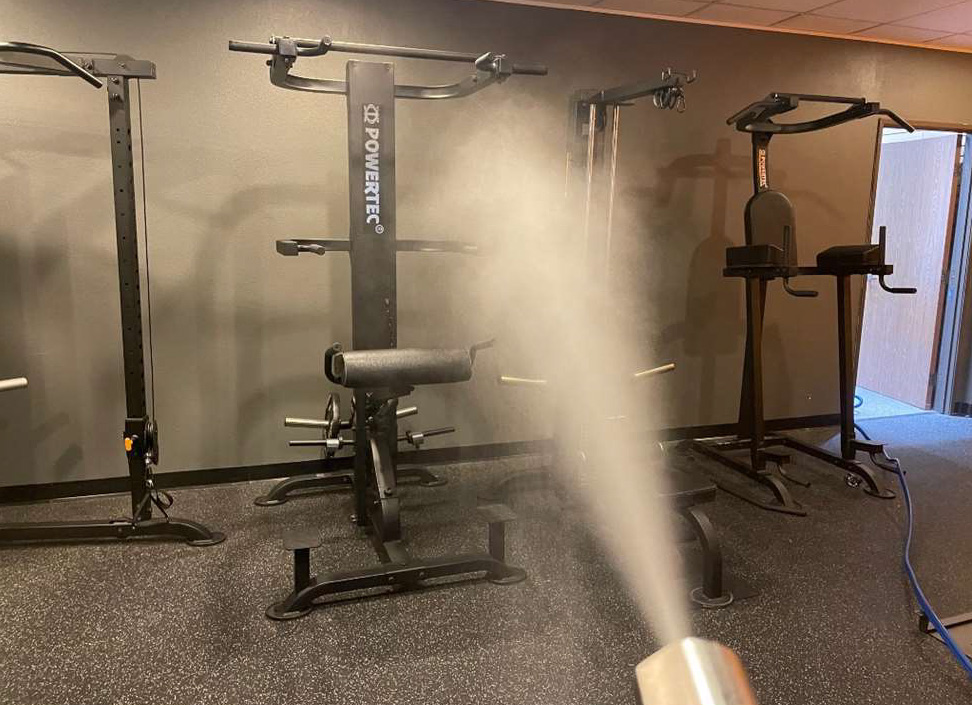 Lafferty Foggers are used to apply disinfectants in medical facilities, police and fire stations, churches, schools, athletic venues and training facilities, offices, and other high-traffic locations. The suitability for fogging and the application parameters of any chemical are determined by the manufacturer, the Environmental Protection Agency (EPA) and/or other governing authorities.
The relative "dampness" or "dryness" of the fog/mist is adjustable and depends on the fogger model, the air volume and pressure provided, and environmental factors. Output wetness can be adjusted by using a metering tip or needle valve to restrict the flow of chemical into the air stream (refer to unit-specific options).
Follow all safety precautions indicated by the chemical product's safety data sheet. Even when a chemical is deemed safe for fogging/misting, we recommend use of a respiratory mask to prevent inhalation of chemical mist.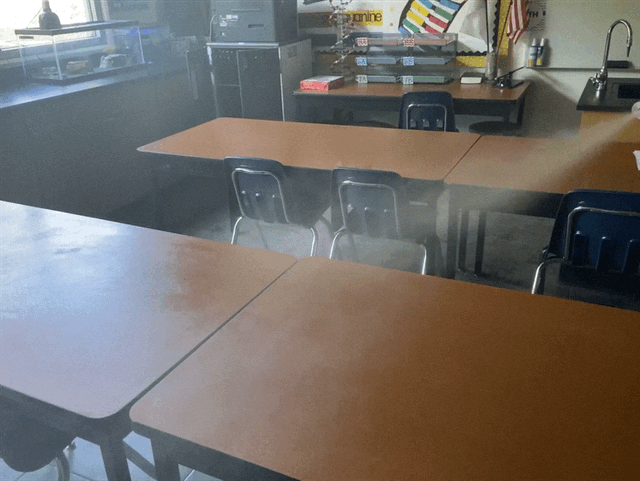 Fogger Selection
All Lafferty Foggers are machined from chemical-resistant polypropylene or stainless steel for maximum durability. The models featured below are outstanding for fogging in offices and institutional settings. Similar models are available to address any usage situation – from conference rooms to basketball arenas.
Learn about the projection distance, output wetness, and compressed air requirements for each fogger series with our Fogger Selection Guide. When you're ready, contact us to discuss your goals and let our customer service team help select the fogging equipment that best suits your application requirements!
All-in-one fogger
On-board air compressor
Part Number: 950730
Convenient hose-end style
Easy to set up and use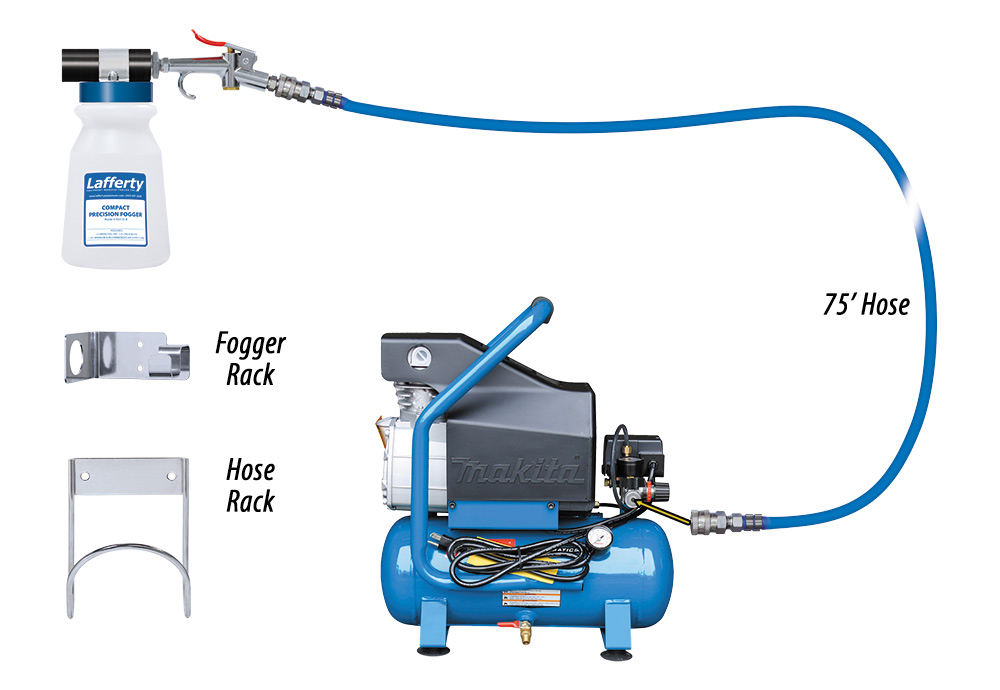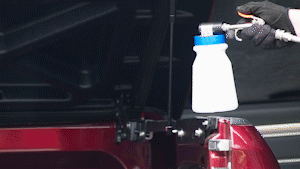 Telescoping pole for large areas
Optional timer

Additional Resources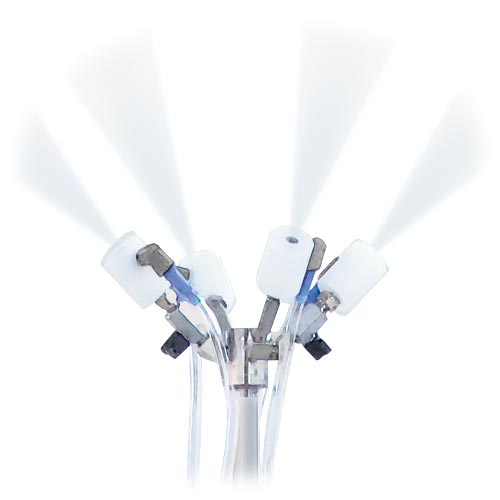 Don't forget hand sanitation!