Introduction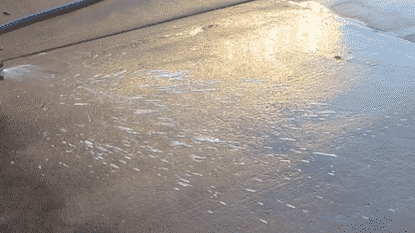 Entryways to facilities, or between uncooked and "ready-to-eat" areas within a facility, are critical control and prevention points. The application of foam sanitizing chemicals at these points builds a barrier to microbial contamination from foot or wheel traffic.
These systems apply a layer of rich foam sanitizer, either on a timed or a pre-programmed basis. This approach, where fresh solution is being applied constantly, is far superior to using boot dip stations or foot baths, which quickly become dirty or dry, and then a source of potential contamination.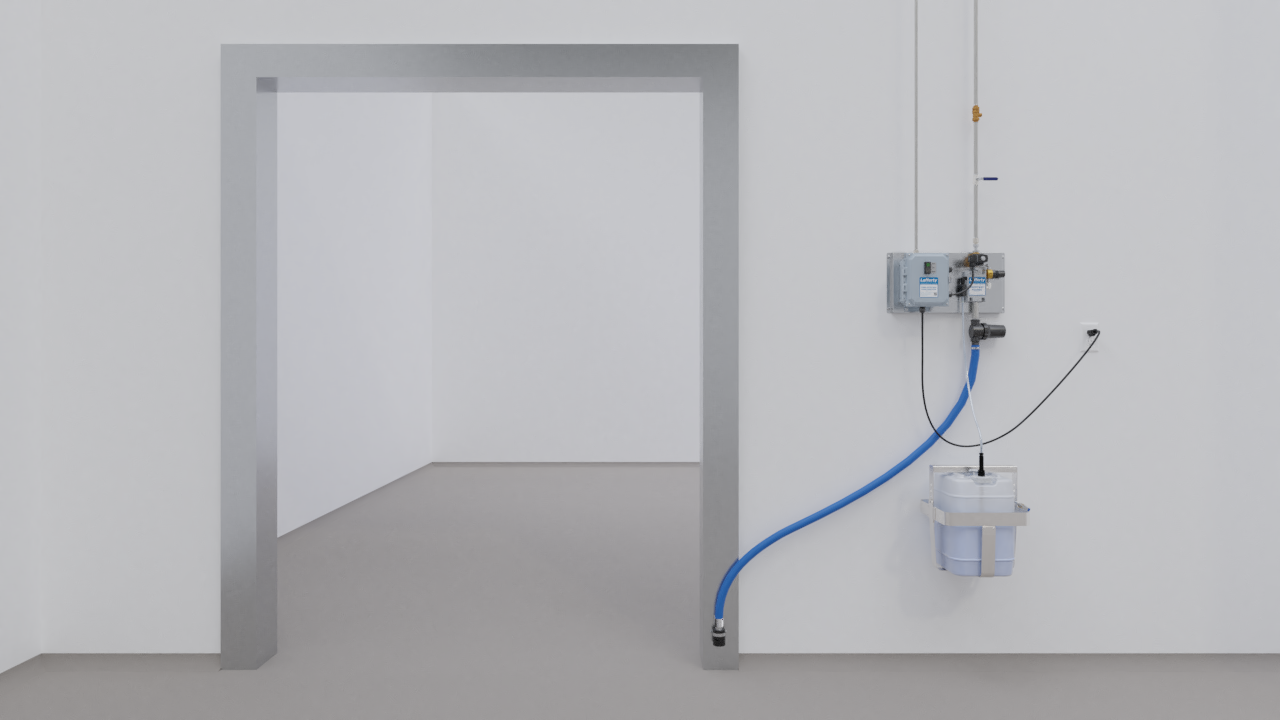 Automatic entryway foam sanitizing systems are the most effective and consistent method of introducing sanitizing chemicals to the floor of the entryway.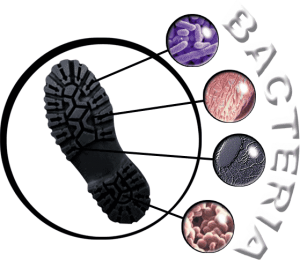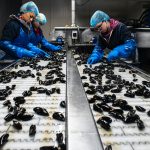 Entryway Unit Selection Overview
---
Lafferty Entryway Foam Sanitizers are available in many configurations to address a wide range of utilities and operational preferences.
Many situations only require a standalone, single-door, timed unit to dilute chemical on demand, but a satellite or pump fed system can be advantageous when installing multiple units or a whole-facility setup. Plan ahead and consider the possibility of future expansion.
Key Considerations:
Are water, compressed air, and electricity available at each doorway?
Can chemical concentrate be stored on the production floor at each doorway?
How wide is each doorway?
How many of each size doorway are being protected?
Will doorways operate simultaneously or is individual control required?
Does the activation schedule need to be customized extensively, or will each entryway system activate on a simple repeating schedule?
120V or 24V electric? 120V models are also available for 24V.
---
1
Venturi
vs.
Pump Fed
Dilute concentrated chemical on-demand at each doorway or pump ready-to-use chemical from a central location.
2a
Timed
vs.
Satellites
Operate independent timed units or activate several satellite units simultaneously with a controller.
2b
Timed Controller
vs.
PLC Controller
Satellite units only. Activate satellites with a simple repeating timer or an advanced controller.
3
Door Size
Once you decide the chemical dilution and control mechanisms, choose a model that will cover the entire entryway area with foam.
Models for larger doors require a Spreader Nozzle on each side of the doorway, while a single nozzle achieves full coverage for smaller doors.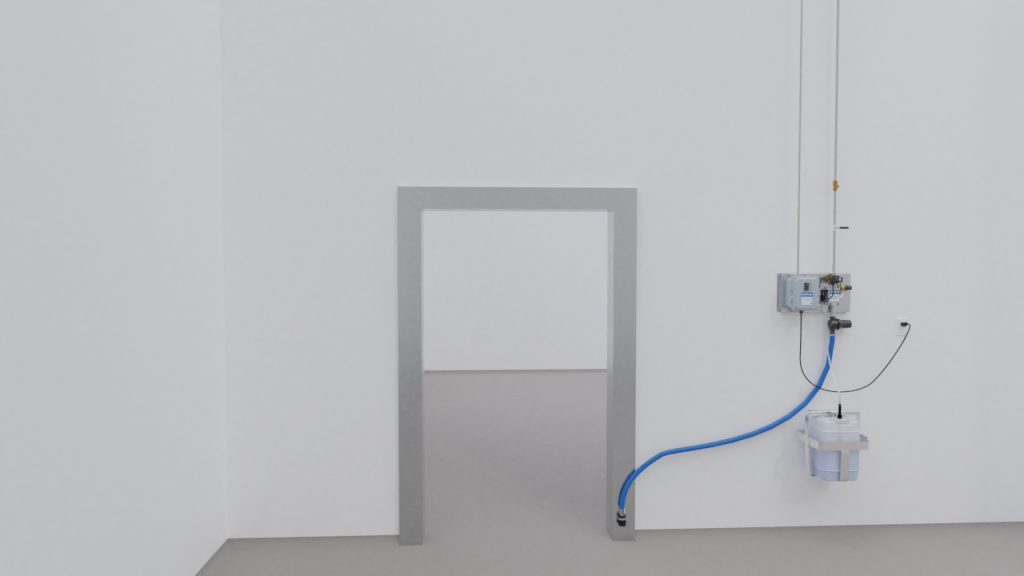 * Timed venturi models shown above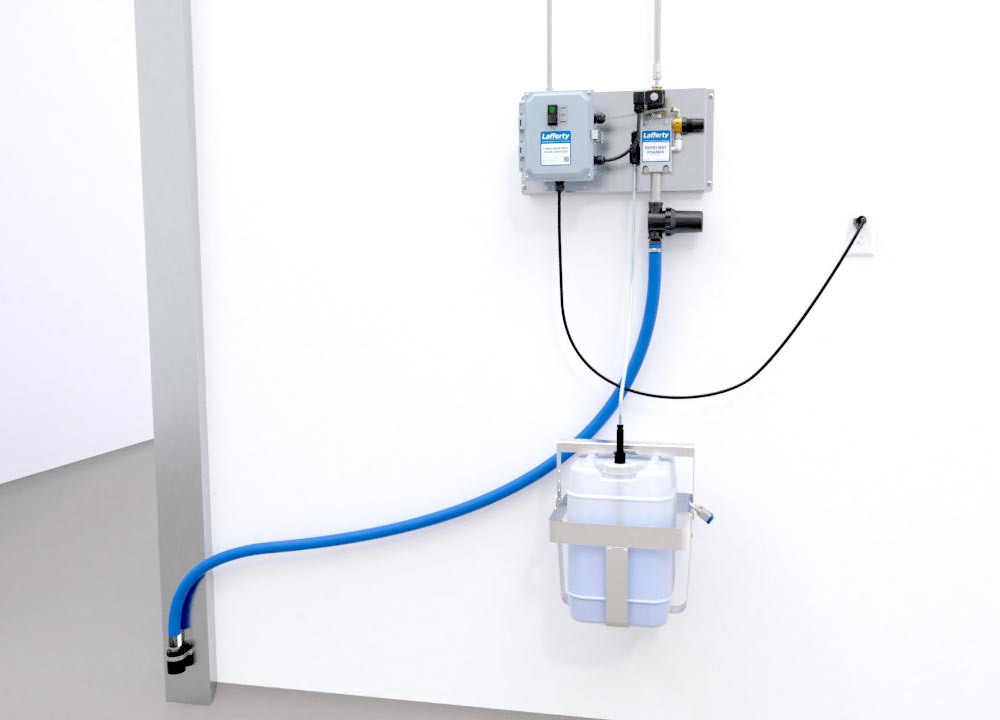 VENTURI ENTRYWAY SYSTEMS
Venturi Entryway Foam Sanitizers use water pressure to dilute chemicals "on-the-fly" from concentrate located at the entryway.
Timed venturi system shown
---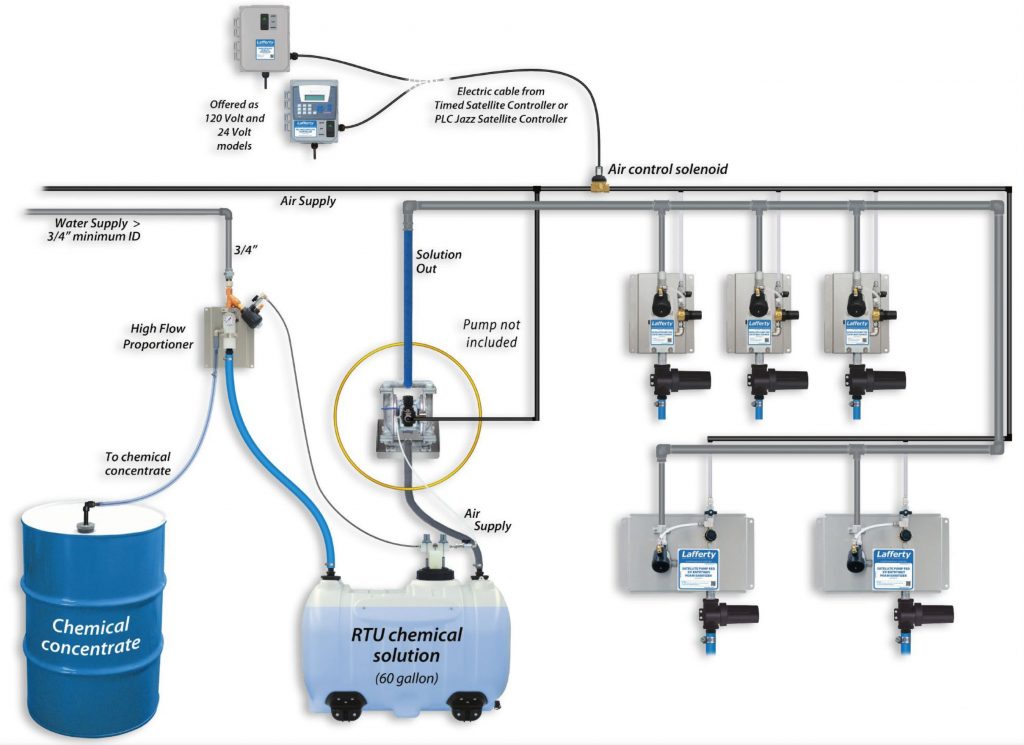 PUMP FED ENTRYWAY SYSTEMS
Pump Fed "PF" Entryway Foam Sanitizers receive ready-to-use chemical from a central feed system.
Satellite pump fed system shown
---
Entryway, Drain and Hand Hygiene Catalog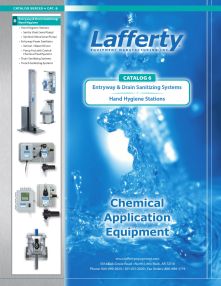 Flip through product information in a traditional print catalog format, with links to full technical details on the main Lafferty website.
Lafferty also offers entryway variants and options for special situations:
Air pump models for facilities with low/fluctuating water pressure.
"Airless" foamers that do not require compressed air.
Dual-door systems to simultaneously foam two nearby doorways.
Dual pickups for foaming additives and 2-part chemicals.
24V versions of any 120V system.
Custom designs and more!
Related Information
Entryway Learning Series
Installation Guide (Coming Soon!)
Operation & Troubleshooting Guide (Coming Soon!)
Programming Guides (Coming Soon!)
Planning Tools
Product Links
Find product details on the main Lafferty website
We look forward to learning about your HACCP situation and recommending the best equipment for the job.
Contact Us