Upon inspection, if the exhaust system is found to be contaminated with deposits from grease-laden vapors, the contaminated portions of the exhaust system shall be cleaned by a properly trained, qualified, and certified company or person(s) acceptable to the authority having jurisdiction.

Hoods, grease removal devices, fans, ducts, and other appurtenances shall be cleaned to remove combustible contaminants prior to surfaces becoming heavily contaminated with grease or oily sludge.

National Fire Protection Association Standard 96 11.6.1, NFPA 96 11.6.2


Pump Up Foamer Pro
Lafferty Pump Up Foamers are a professional-grade version of a familiar concept. They are the perfect introduction to foaming.
We recommend our 3-Gallon Pump Up Foamer Pro with EPDM seals, which includes:
Heavy-duty 3-gallon polyethylene tank with base
Heavy-duty hand pump
EPDM seals and o-rings
Pressure relief valve
Compressed air "quick charge" valve
Machined foamer body
6′ discharge hose
Heavy-duty trigger gun with EPDM internal seals
Polypropylene 10″ wand & stainless steel fan nozzle
The richness of the foam output depends on the properties of the chemical. Some specialty hood cleaning chemicals are designed to foam very well. Lower-foaming chemicals may require a compatible foaming additive (surfactant) to enhance foaming ability and improve performance with foaming equipment.
Foaming enhances chemical contact time, reduces wasteful runoff, and helps cover more area with less product.
Chemical-Resistance and Part Replacement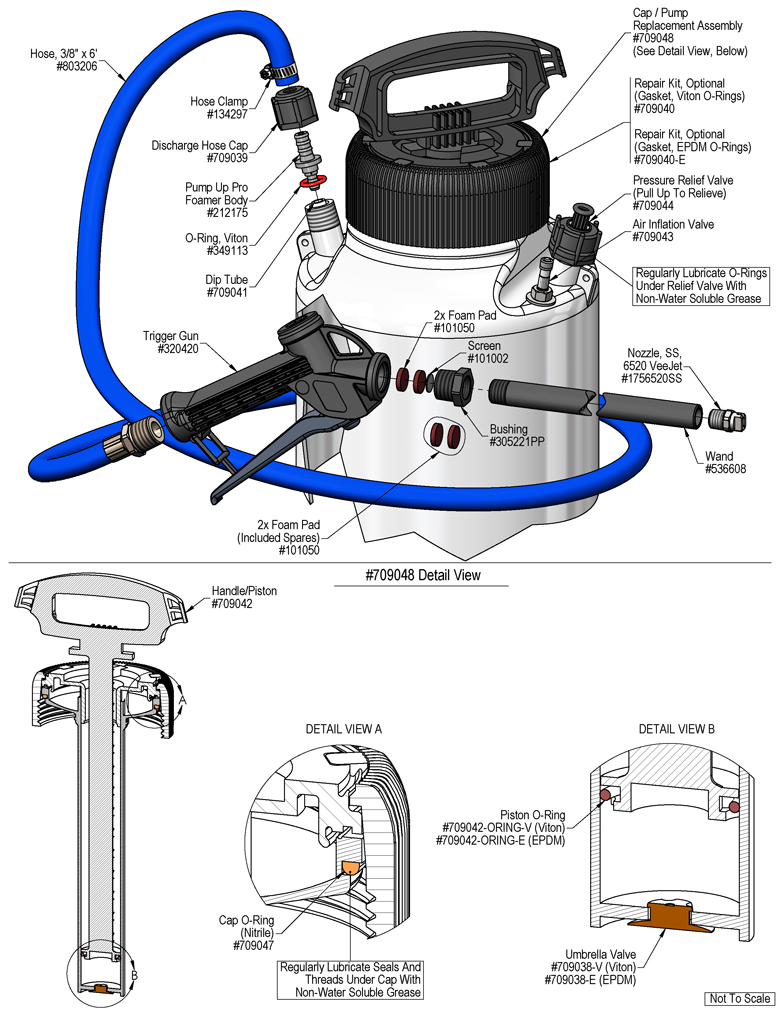 Standard units include Viton/Nitrile o-rings and seals, which are suitable for a wide range of cleaning products. However, many caustic alkaline chemicals are more compatible with EPDM. Consult your chemical supplier to confirm the best option.
You can purchase a Pump Up Foamer or any individual component with EPDM seals pre-installed, or purchase a standard unit with an EPDM repair kit to utilize when the standard seals need to be replaced due to chemical exposure and normal use. Learn more with our O-Ring Replacement Guide and Parts Guide.
Any individual part can be replaced as needed. The frequency of replacement depends on how diligently best practices are observed and the amount of use/abuse received. Consider the Precision Foamer, described below, to eliminate pumping and the associated maintenance hassles.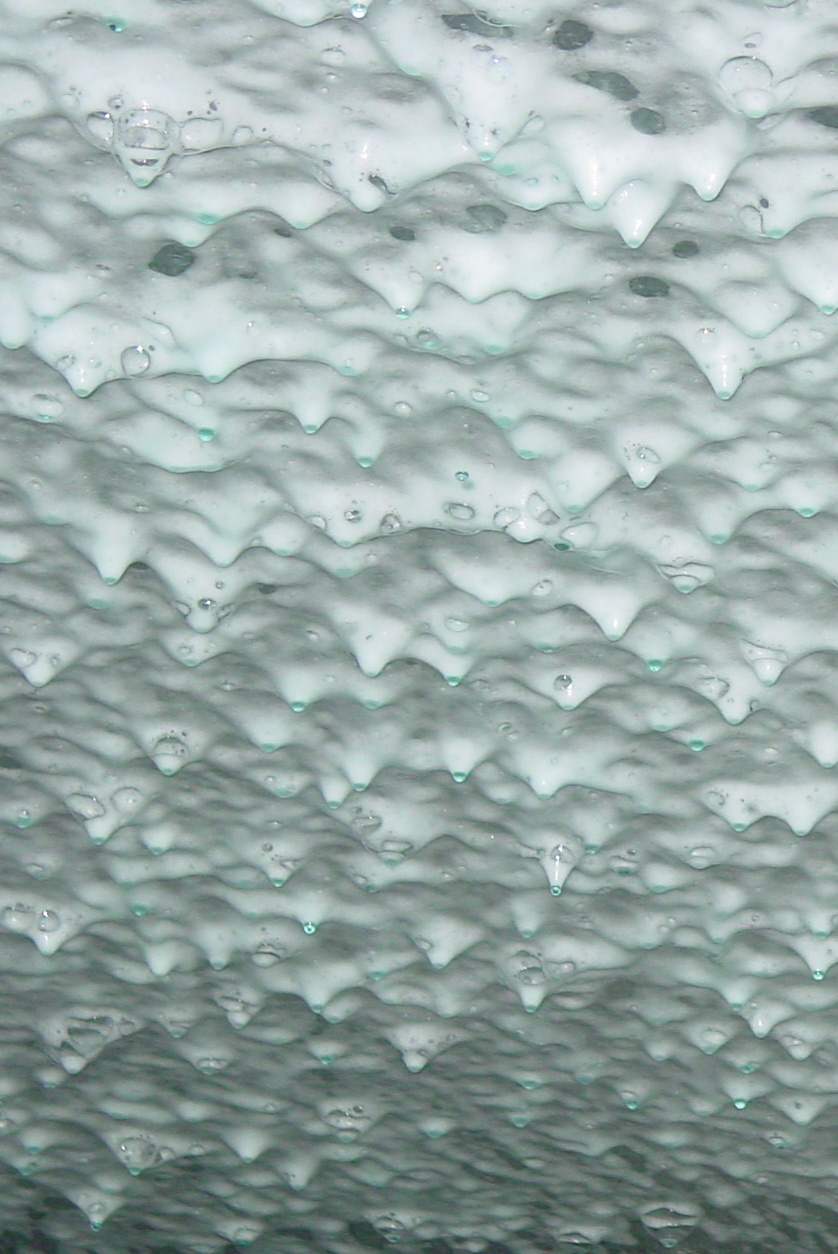 Precision Foamer
Tired of pumping? Ready for the next step up?
Precision Foamers get the job done faster.
The Lafferty Precision Foamer is a low volume foam applicator for jobs where precision application and tight control of overspray are required. It is available in several unique configurations. All Precision Foamer models include a 50′ hose, and additional hose is available in 25′ increments up to 300′ total.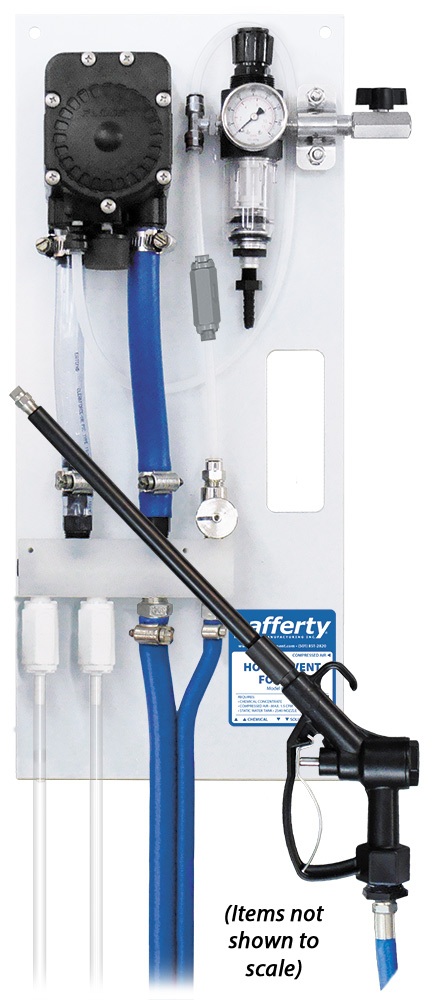 Pump and dilution assembly are mounted to a polypropylene base with handle for ease of transportation.
A compressed air operated pump draws pre-diluted (ready-to-use) chemical from a tank, but can also mix water and chemical concentrate on demand.
Great for trailer-mounted setups. Bring the hose and gun into the kitchen and leave the chemical/water tanks, dilution system, and air compressor on the trailer.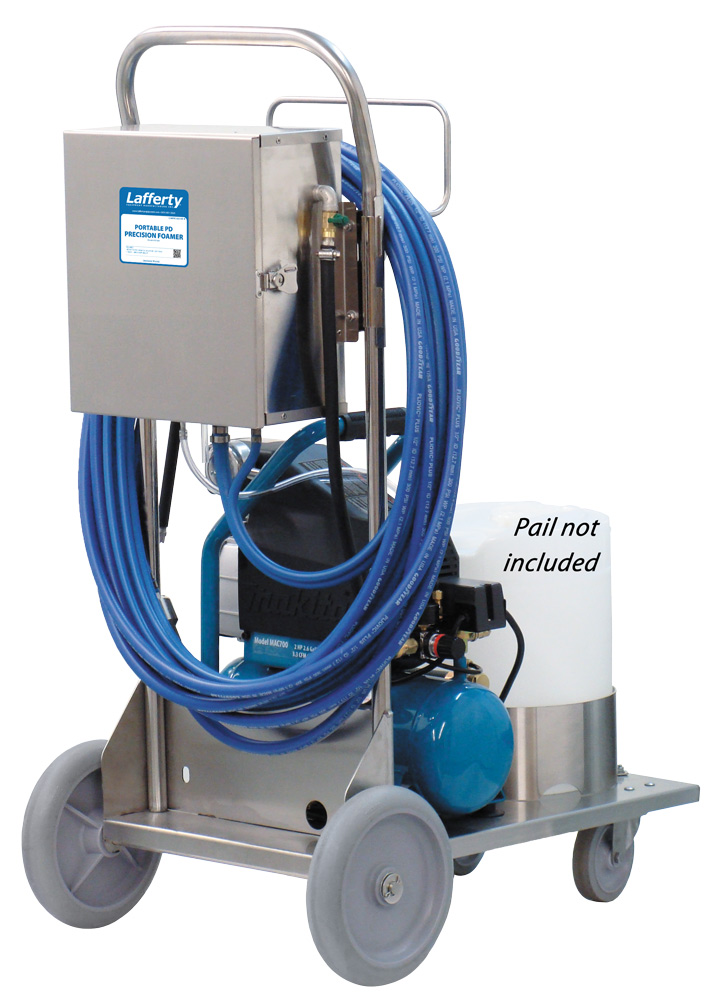 Mounted on a heavy duty, 4-wheel, stainless steel cart with on-board 5-gallon chemical rack. Round rack standard, square optional.
This model requires pre-diluted (ready-to-use) chemical.
Turnkey setup includes a quiet air compressor. Simply connect to a 120V/15A electric outlet and begin foaming.
The Portable Precision Foamer is designed for professional exhaust cleaners working in large buildings (military base galleys, universities, commercial kitchens, etc.) Available with 20-gallon tank for extended foaming time.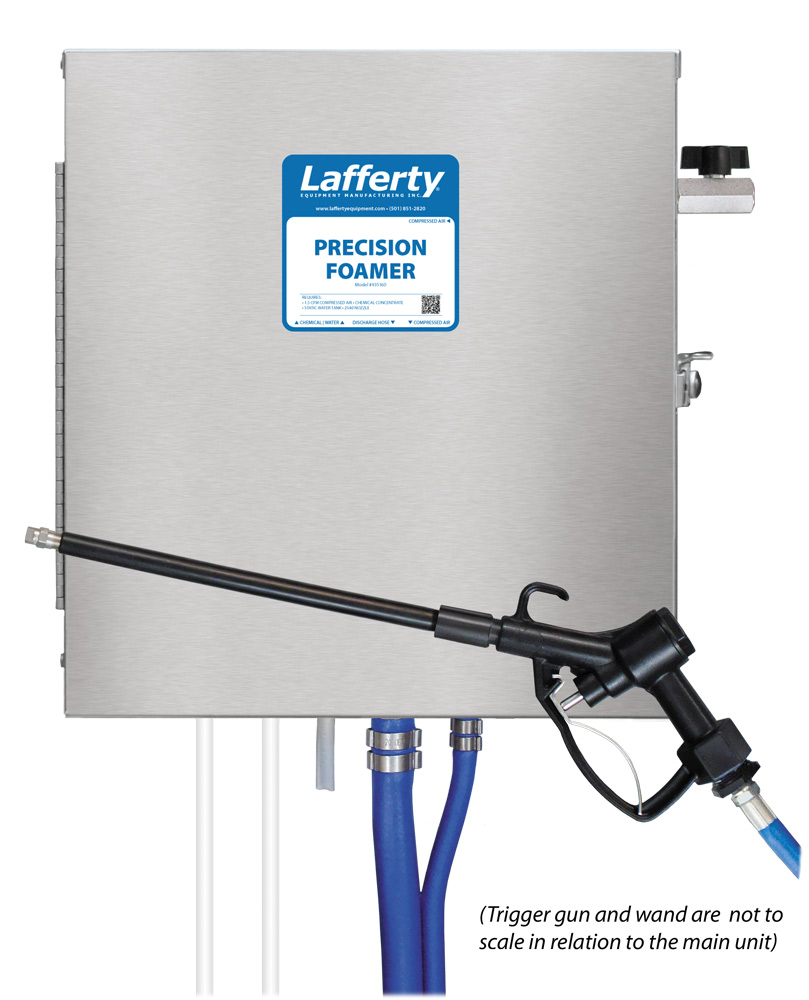 All components are secured in a lockable stainless steel enclosure to prevent tampering.
Mixes water and chemical concentrate on demand or utilizes pre-diluted (ready-to-use) chemical.
This variation is well-suited for permanent installation in high-end restaurants and commercial kitchens.