Veterinary clinics, rescue centers, boarding facilities, breeders, groomers and other animal health organizations are responsible for the wellbeing and safety of animals and the employees who work with them. Cleaning and disinfection is part of daily life.
Lafferty chemical dilution equipment makes it easy for employees and volunteers to get the job done right.
---
Mixing Stations
Mixing Stations are the heart of every chemical management program. They dilute concentrated chemical on demand using water pressure and dispense into any size container.
Lafferty Mixing Stations are available with 1-5 valves. You may wish to dilute multiple chemicals (disinfectant, floor cleaner, degreaser, doggy shampoo, etc.) or dilute the same chemical to several different ratios (daily use, extra strength, etc.)
Choose a factory-set flow rate for each valve when ordering.
Refer to the metering tip chart in the instructions for each unit to confirm that it can achieve the required dilution ratio at your desired flow rate and available water pressure.
A Mixing Station for Every Situation
Push Lever Mixing Stations require the user to hold a lever to dispense chemical to prevent overfilling, and Ball Valve Mixing Stations are activated by turning a ball valve.
Hands-Free Mixing Stations are activated by a remote foot lever, which offers additional convenience and makes these unique chemical dispensers ideal for sanitary environments
Many Lafferty Mixing Stations are certified to ASSE Standard 1055 for chemical dispensing equipment with integral backflow protection.
See more Mixing Station installation pictures in the Accessories Section below.
---
Pump Up Foamers
Lafferty Pump Up Foamers are used where water pressure is not available and when precision application is required. The 3 Gallon Pump-Up Foamer Pro features a heavy-duty hose, trigger gun, and extension wand and combines the many advantages of foam cleaning with the familiar ease and portability of a typical pump-up sprayer.
Creates rich, clinging foam by injecting air from the tank into the chemical solution.
Low-volume, precise output conserves chemical and reduces runoff.
Ideal for areas without adequate floor drainage such as cat rooms veterinary exam areas.
Fill with diluted (ready-to-use) chemical from a Mixing Station.
TIP: Only fill the tank half way for best results and longer foaming time between pumping.
Used with disinfectants and general purpose cleaning chemicals.
Choice of 1.5 or 3-Gallon Tank.
Viton or EPDM seals (Viton is standard and suitable for many animal health disinfectants).
3-Gallon model includes a base for extra stability and a compressed air quick-charge valve to eliminate pumping.
Pump Up Sprayers are available for non-foaming chemicals.
NOTE: Pump Up Foamers need to be maintained to ensure top performance. This includes lubricating and occasionally replacing o-ring seals. For less maintenance, consider a water-driven system such as a Compact Airless Foamer or Uni-Body Airless Foamer (see below).
---
Compact Airless Foamers and Sprayers
Lafferty Compact Foamers and Sprayers are a heavy-duty version of a time-tested concept. They dilute chemical on demand and are ideal for quickly washing and disinfecting dog kennel runs, animal transport vehicles, and general purpose cleaning anywhere with running water.
Simply install a metering tip based on the required dilution, fill the bottle with concentrated chemical, connect to a city water pressure hose, and start foaming or spraying!
---
Compact AIRLESS FOAMERS create wet, clinging foam without compressed air. They are used with foaming disinfectants, degreasers, or any cleaning detergent (soap).
#969925-B32 Model 25 Compact Airless Foamer is suitable for most situations, but Model 15 offers reduced output volume.
We recommend the Spreader Nozzle for close-range foaming and a Storage Rack to protect your investment.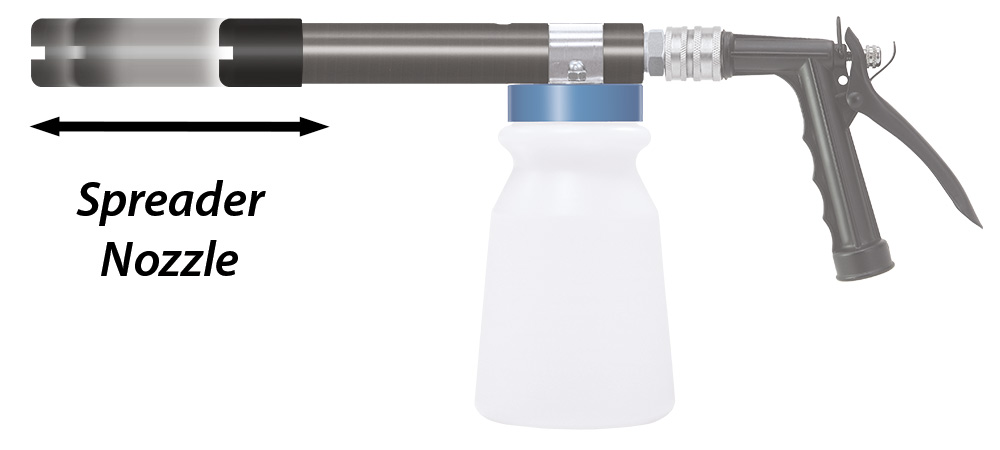 ---
Compact SPRAYERS project liquid spray and are typically used with non-foaming chemicals. The standard nozzle produces a 25 degree fan pattern, and alternate nozzles are available.
Choose a model based on the desired output volume. The low volume Model 20 has a flow rate of less than 1 GPM. Model 50 puts out a higher volume with a flow rate of 2.3 GPM @ 40 PSI.
---
Compact Foamers and Sprayers are available with a stainless steel ball valve for extra durability. The unique stainless steel 4-Hole Rinse Nozzle projects a powerful focused stream of water.
---
Wall-Mounted Foamers and Sprayers
Consider installing wall-mounted units in areas that require frequent cleaning, such as dog kennel runs. Safety and ease-of-use are enhanced because the user doesn't need to transfer chemical or carry it with them. Simply drop the suction tube into any size chemical container stored below the unit.
---
Uni-Body Spray-Alls project liquid spray in a fan pattern and are typically used to apply non-foaming chemicals.
Similar to the Compact Sprayers, above, choose a model based on the desired output volume (w-20, W-50, W-100).
---
---
Compressed-Air-Assisted Foamers also dilute chemical on demand, but inject compressed air into the solution. Air-assisted foam clings better than airless foam and the foam consistency (wet/dry) is adjustable. Learn more with our Foam Cleaning Overview.
#975545-G Uni-Body LV Foamer is a low volume foamer (0.65 GPM @ 40 PSI) but it's perfectly capable of foaming larger areas. The low compressed air requirement of 1.25 CFM means it can be powered by a smaller consumer-grade air compressor.
---
Multifunction Uni-Body Systems are available in many unique configurations to help you obtain the perfect combination of functions and flow rates
Portable Foamers and Sprayers
Portable Systems allow a single unit to service a larger area than a wall-mounted unit. Simply move the unit between water connections as needed.
Any of the wall-mounted units described in this guide can be installed on a stainless steel cart with on-board chemical rack.
---
Pressure Washer Foamers and Sprayers
Pressure Washer Equipment rapidly applies chemical over large areas.
Ensure that your pressure washer volume (GPM) meets the minimum requirements for each unit. Most units require a minimum of 2.2 GPM. Refer to our Pressure Washer Equipment Selection Guide for details.
Hose-End Models connect directly to pressure washer trigger gun (1/4″" quick connect). Injector and nozzle are a single assembly. Easily removed for high pressure rinsing. No limit to hose length from pressure washer. This is the most versatile style of pressure washer equipment, but requires the user to keep the concentrated chemical nearby.
---
Combo Kits feature an injector that is separate from the paired foam wand or spray nozzle so the user does not need to carry chemical. Use a normal high pressure nozzle (not included) to stop chemical suction and rinse at reduced pressure, or disconnect the injector to rinse at full volume and pressure.
---
Accessories
---
Chemical Handling Accessories
Safe Flow Lids & Pail Sticks™ keep out contaminants, reduce odors and prevent chemical splashing and spillage. Lafferty offers configurations to fit different types of container openings and depths.
Drum Sticks and Tote Sticks™ facilitate dispensing from bulk containers. These chemical-resistant, polypropylene accessories include check valves and hose barbs to attach tubing of various sizes.