Lafferty Pressure Washer Foamers and Sprayers use a pressure washer to dilute chemical concentrate on demand and project liquid spray or wet, clinging foam.
This post provides answers to some of the most common questions, but don't hesitate to contact us to discuss your goals!
This FAQ provides supplemental information that requires familiarity with our equipment configurations. Learn the basics from our Pressure Washer Equipment Selection Guide.


What do SS and HC mean?

Stainless Steel

: Lafferty pressure washer injectors and foam wands are machined stainless steel for durability and temperature resistance (up to 180°F).

High Concentrate

: HC units can achieve stronger dilution ratios than standard models, but there may be performance tradeoffs such as reduced foam throw distance or less overall flexibility.
What is the difference between a foamer and sprayer?

Foamers project aerated chemical to increase chemical contact time, reduce wasteful runoff, and provide visual confirmation of coverage. Most Lafferty pressure washer foamers include a fan and zero degree nozzle.
Sprayers project liquid output for non-foaming chemicals or when foaming is not advantageous. Most sprayers include a fan nozzle.
What does "airless" foam mean? Will this produce "shaving cream" foam consistency?

Airless foam means that no compressed air is required.
Airless Foamers draw atmospheric air into the diluted chemical as it flows through the foam wand to create foam without compressed air.
The quality (richness) of the foam will depend on the chemical and dilution. Airless foam is not "shaving cream" consistency foam, which requires compressed air, a different type of equipment, and more than just a pressure washer.
How forceful is the output? Is it suitable for "soft wash" applications?

There are few (if any) advantages to applying chemical at high pressure because most of the chemical will hit the surface and fly away. Soft washing involves applying chemical more gently to improve contact time and "let the chemical do the hard work" rather than blasting with high pressure.
Foam is naturally low pressure and great for cleaning surfaces that may be damaged by high water pressure. Foam clings to textured surfaces to provide confirmation of coverage and maximize contact time.
Chemical spray nozzles produce more forceful output than a foamer, but the pressure is not as high as a rinse nozzle because the venturi injector drops the pressure to dilute chemical. You can use a more focused chemical spray nozzle (assuming it has the same flow rate) to increase how hard the chemical output hits the surface.
What is the difference between a model 10 and model 20?

The flow rate. For example: Model 10 injector and foam wand kits are balanced for pressure washers with lower flow rates.
Refer to the requirements for each unit, or our Comparison Chart, to confirm that it is suitable for your pressure washer volume.
Will a unit work if my pressure washer puts out fewer GPM than required?

Probably not well.
Even if the injector draws chemical, output from the nozzle may be weak without sufficient water volume to create backpressure.
Will a unit work if my pressure washer puts out more GPM than required?

Yes!
Your pressure washer must be able to unload/recirculate the unused water volume without overheating. Refer to the instructions to see the maximum flow through each unit.
Does Lafferty sell pressure washers?

No. Lafferty only manufactures and sells chemical dilution and application equipment.
What is the maximum foam throw distance possible?

Foam throw distance depends on the model and flow rate of the pressure washer.
Higher flow injectors and foam wands used with pressure washers on the top-end of the performance spectrum will achieve the best possible foam throw distance.
Foam throw estimates provided by Lafferty are based on a mid-range pressure washer.
Hose-end models such as #969620 offer the best possible foam throw distance. Foam throw distance with a hose-end style unit is slightly better than a similar combo or bypass kits because there is no hose between the injector and foam wand.
Can I adjust the foam throw distance?

Reducing the output volume of the pressure washer will reduce the foam throw distance.
The Double Bypass 2-Way Airless Foamer/Sprayer #969762 offers fully-adjustable foam throw by using a diverter valve to send unused water back to the tank.
Can I achieve weaker or stronger dilutions than shown in the metering tip selection chart in the instructions?

Dilutions are based on the metering tip size and the volume output (GPM) of the pressure washer.
To achieve the weakest possible dilution, use the smallest metering tip.

For even weaker ratios, pre-dilute the chemical before diluting it again with the injector.

To achieve the strongest possible ratio, use no metering tip.

The only way to produce a stronger dilution than the "no tip ratio" would be to lower the pressure washer output volume, thus decreasing the water volume being mixed with chemical. However, take care not to drop below the required GPM or the unit may stop drawing chemical properly.
Can I use this equipment with a hot water power washer?

The maximum allowable temperature for Lafferty pressure washer systems is 180°F.
Using water over 180°F will cause the water to "flash steam" inside the injector, which will disrupt chemical suction and cause damage to the injector over time.
What are the advantages of a hose-end style system?

Easy to set up and install:

Just quick connect to your gun (1/4″) and start spraying or foaming. Some models include an attached bottle, others include a suction tube for a larger container.

Quickly swap attachments or chemicals

: No need to return to the pressure washer to switch – just quick connect another nozzle or foamer/sprayer to the gun.

Use any length hose:

Since the injector and foam wand are one part, the length of the hose does not affect dilution or performance.

Best possible foam throw distance:

Foam throw distance with a hose-end style unit is slightly better than a similar combo or bypass kits because there is no hose between the injector and foam wand.
What foamers does Lafferty recommend to wash buildings (residential, commercial, siding, roofs, etc.)?

#969620 and #969720 are great general purpose units that can apply product as foam or spray. Most importantly, they can throw foam 25 ft. with a 4 GPM pressure washer.
What foamers does Lafferty recommend to wash fleet vehicles (trucks, trailers, buses, etc.)?

We recommend #969752 and similar "Bypass" models for 2-step fleet washing or any process that requires multiple chemicals. The two chemical pickups could also be used to apply two different ratios of the same product.
#969762 allows the user to adjust the foam throw distance by diverting excess water back into your holding tank. Apply foaming acid at low volume, to reduce splashing, and then increase the volume to quickly foam down the entire rig with detergent.
I already have a chemical injector. Can I buy a foam wand by itself?

Yes, but we can't guarantee performance with a non-Lafferty injector.
#969402 A-40 Airless Foam Wand with Fan Nozzle is our most universal substitution for a standard '40' detergent nozzle that is used with many non-Lafferty injectors. If your pressure washer injector works with a 40 nozzle, this foam wand will allow it to draw product.
Foam wand performance is based on the specifications of the pressure washer, injector, and chemical. Due to the on-site variables involved, Lafferty can't guarantee foam throw distance or dilution ratios when pairing a foam wand to a non-Lafferty injector.
Consider a Lafferty kit with paired injector and foam wand for predictable top performance.
Can I use a Lafferty Airless Foam Wand with a low-pressure electric pump and tank of pre-diluted (Ready-To-Use) chemical?

Yes, but that's a completely different type of equipment that doesn't require a pressure washer.
If you don't need to dilute chemical on demand and want to simply pump RTU chemical to the nozzle, Lafferty manufactures foam wands with various flow rates. See below.
Pump Fed Airless Foam Wands are a great addition to almost any softwash system, but the application distance will be lower than projecting liquid chemical through a traditional spray nozzle.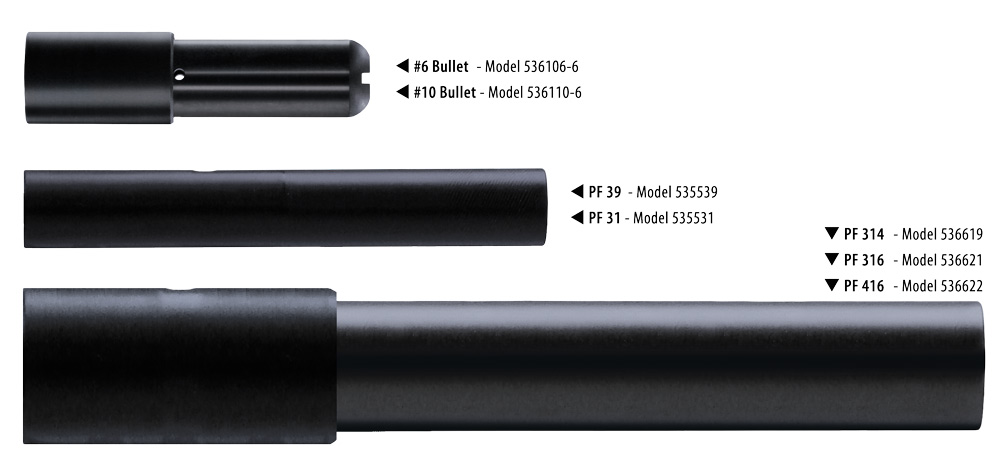 NOTE: Use an Airless Foam Wand with a flow rate that is LOWER than your pump specifications to ensure adequate backpressure and foam throw distance.
---
Learn More