Conveyors and racks in spiral freezers include many hard-to-reach areas, which present challenges for manual cleaning and sanitizing processes.
Lafferty Conveyor-Mate Foamers and Sanitizers are ideal for foaming and spraying moving conveyor belts outside of the freezer, but what about the support structure, walls, ceiling, and other equipment inside the freezer?
3-Level Pump Fed Fogger
The Lafferty 3-Level Pump Fed Fogger can be installed in a wide range of situations. Three 8-Way Fogger heads are connected vertically in series by stainless steel piping (user-supplied), which delivers compressed air and sets the vertical spacing between foggers.
Solution is delivered to each fogger by user-supplied stainless steel tubing, to withstand freezing temperatures. A manifold with needle valves adjusts solution flow to each fogger.
Once installed, simply connect compressed air at 60 PSI or higher (CFM based on fogger type) and a pump that can provide 20+ PSI solution pressure.
Open the air and solution supply lines to begin fogging. Adjust air pressure and solution needle valves as needed to refine the fog output (projection distance and wet vs. dry).
When finished, close the solution supply line, but keep the air line open briefly to empty liquid from the fogger heads and solution lines.
Fogger Control Mechanisms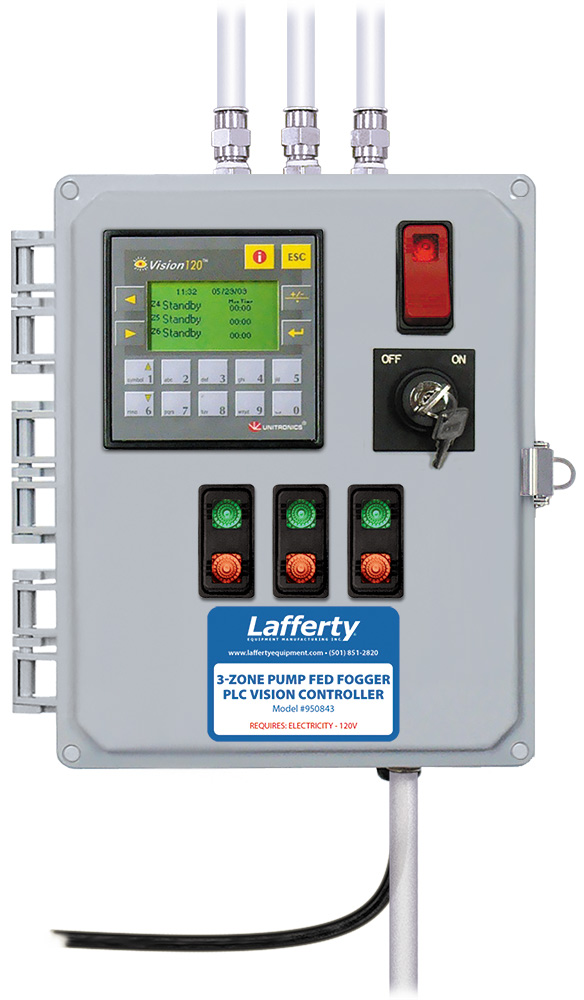 Pump Fed Foggers, including the 3-Level PF Fogger, can be activated manually by opening and closing air and solution supply lines to Pump Fed Foggers with ball valves.
However, for full labor and safety benefits, we recommend using a single-zone Timed Controller or multi-zone PLC Vision Controller.
The 3-Level PF Fogger can be used in place of standard Pump Fed Foggers shown in these illustrations.
Pump Fed Fogger Zone Control Kits include air and solution solenoids, and an Air Bleed Tank Assembly to automatically empty solution from the lines when fogging is finished.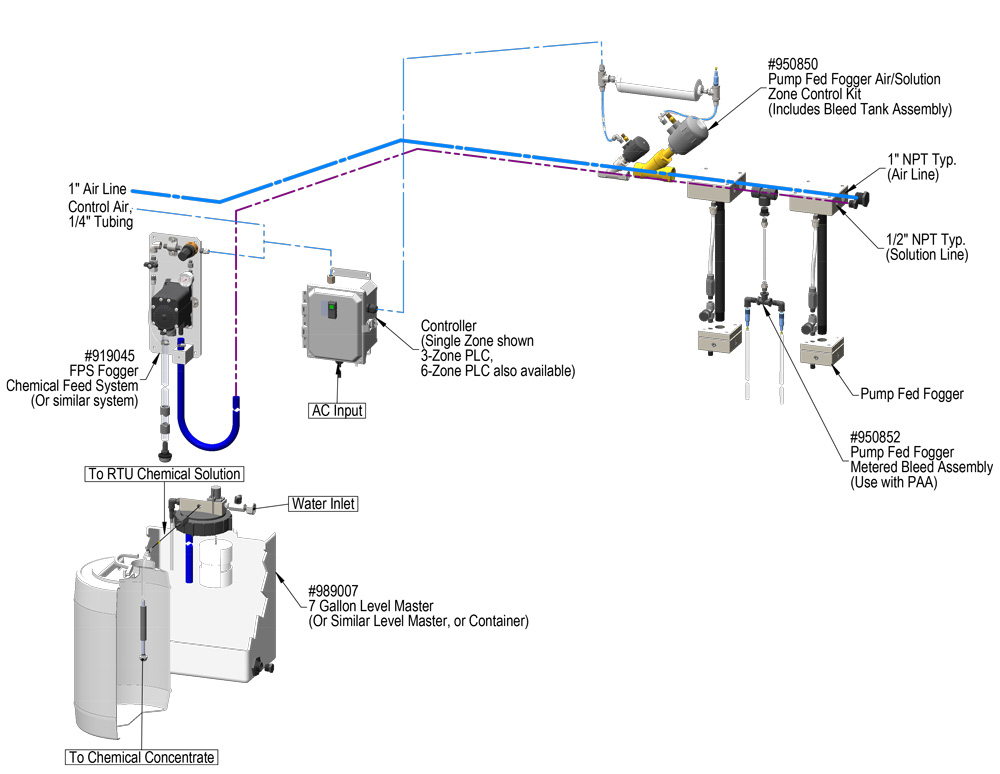 Installation Tip
Each 3-Level PF Fogger includes (3) 8-Way Foggers, which each require a significant volume of air. The maximum number per zone depends on the fogger series CFM requirement, available utilities, and air piping size.
Learn more about each component with our Pump Fed Fogging Overview.
Related Posts & Links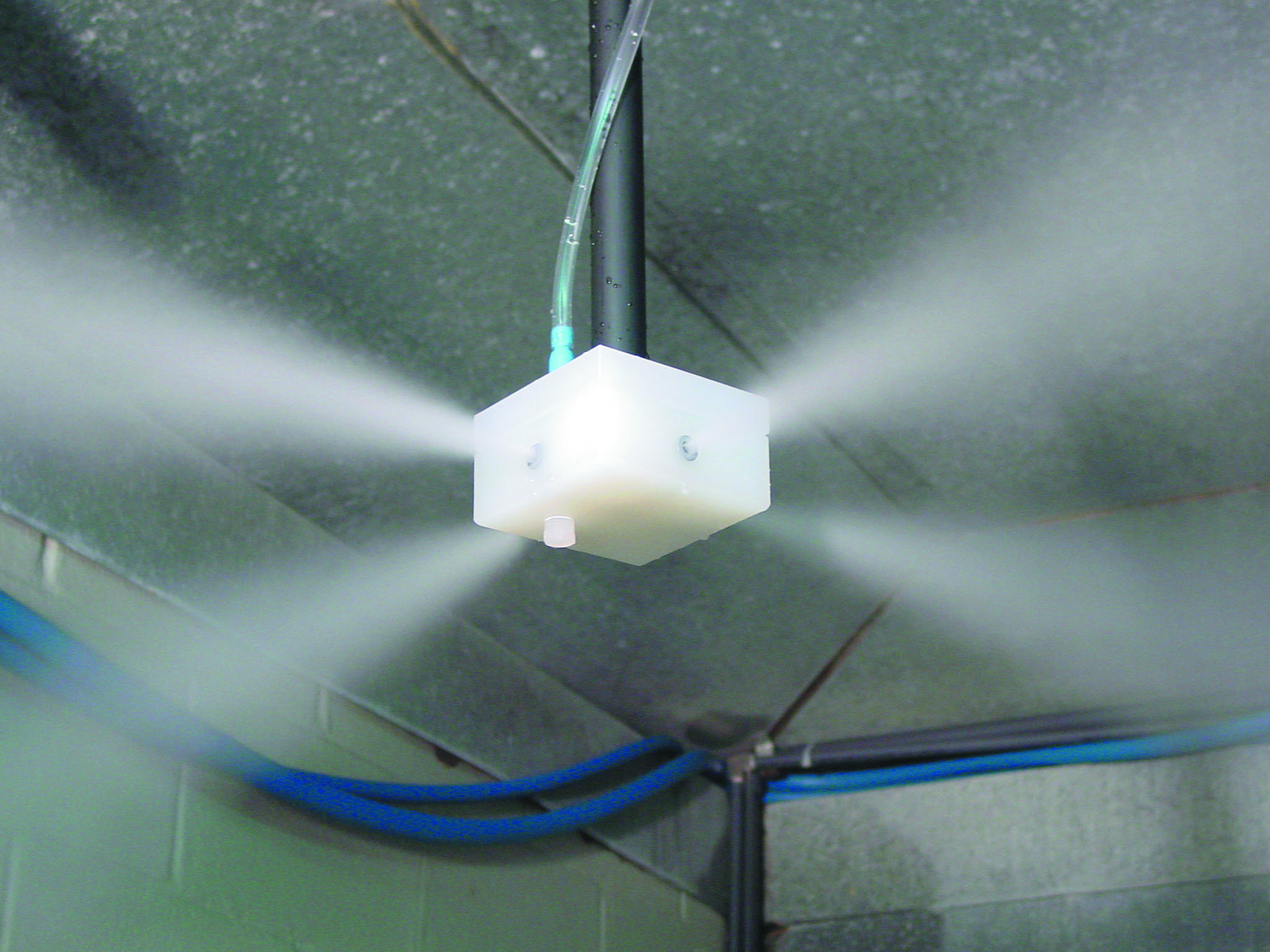 Lafferty is ready to help with your next fogging project!
Contact Us