Access Methods
The Metering Tip Calculator is available on the Lafferty website and via mobile apps. The mobile apps do not require an internet connection to use, so they are ideal for installing equipment where reliable internet may not be available.
Step-By-Step Instructions – Mobile App and Website
Provide the Unit Flow Rate for the unit being installed

The Unit Flow Rate is a baseline value that is specific for each unit.
Refer to the Flow Rate Chart on Page 2 of the Installation & Operation Instructions.


Enter any of the GPM / PSI pairs into the Metering Tip Calculator as the Unit Flow Rate. It does not matter which pair is used, they will all return the same results.

Provide the Actual Water Pressure (PSI) at the unit

The Actual Pressure is the pressure of the water supply that is connected to the unit.
If the unit is equipped with gauges, read the water pressure gauge with water flowing through the complete unit.

Important: Use the "running" water pressure. Do not use the "static" pressure of a non-flowing water supply. The static pressure will read higher than the running water pressure and cause unexpected results. To determine the running water pressure, read the gauge with the unit connected to the water supply and water flowing through the injector, hose, and discharge assembly provided with the unit.

If the unit is not equipped with gauges, use a Water Pressure Test Kit.


Alternately, consult a plumber to determine the running water.

Click "Calculate"

The results table will display the dilution ratio for each color of metering tip.
The results are shown in several formats.

Ratio (water:chemical)
Percentage (by volume)
Ounces per gallon
Unit Selection Mode – Website Tool Only
For most products, simply type the model number or part of the product name into the "Select Unit" field to search for it. Click a unit in the list to select it.
Once selected, the unit flow rate will automatically update to show specifications for the selected unit.
For multifunction units, use the "Unit Bodies" toggle to switch between charts for each function. Foaming, sanitizing, etc.
If necessary, make sure to enter the actual water pressure that is being provided to the unit. Refer to step 2 below.
If a unit is selected, a link to unit instructions will appear next to the "Select Unit" field.
---
Screenshots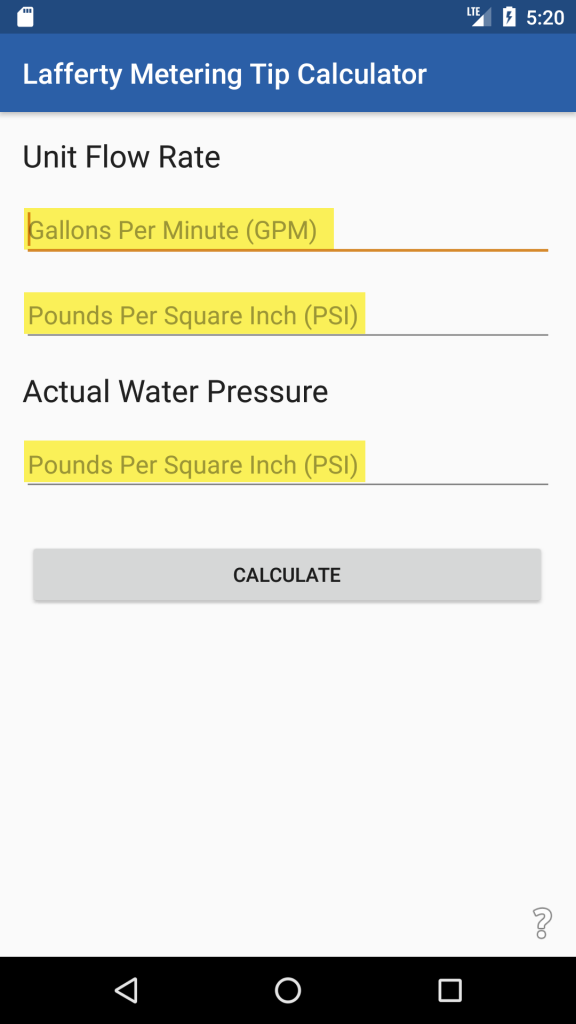 MOBILE APP
Enter the unit flow rate (GPM) and pressure (PSI) from the unit-specific requirements, which are available in the instructions.
---

WEBSITE
Selecting a unit will automatically populate the unit flow rate details. If the desired unit is not available for selection, select a similar model or enter the unit flow rate and pressure manually.