Thank you for your interest in our equipment! Since 2012, Blue Mule has been the online retail brand of the industrial manufacturing company, Lafferty Equipment. Blue Mule facilitated the purchase of some of our most popular chemical dilution and dispensing systems.
We are pleased to now offer online ordering directly through Lafferty Equipment.

While Lafferty and Blue Mule always operated as one company behind the scenes as the original manufacturer, Blue Mule customers will now enjoy access to the full Lafferty product range and customer service team. The products themselves and prices remain the same, although some are referred to by different descriptions (names) and part numbers.
Blue Mule will stop accepting new orders in December 2022, and all operations will transition to Lafferty. Existing Blue Mule website orders will process normally, and product warranties are unaffected.
Same designs, different name!
Whether you're a long-time customer or coming to us for the first time – we appreciate your business!
Table of Contents
Use the category links to jump to a specific section, or just scroll down, and learn how these versatile systems are ready to tackle tough cleaning and disinfecting challenges.

---
---
---
---
---
---
---
---
Accessories & Spare Parts
We offer convenient accessories to complement our wide range of chemical dilution and application equipment.
Should the need arise, we also offer replacement/spare parts. Refer to the "Installation & Operation Instructions" on the Lafferty website to see a parts diagram for each unit.
Many parts can be purchased online, and we are always expanding our selection. Please submit a contact form to request pricing for anything that is not currently available on the Lafferty website.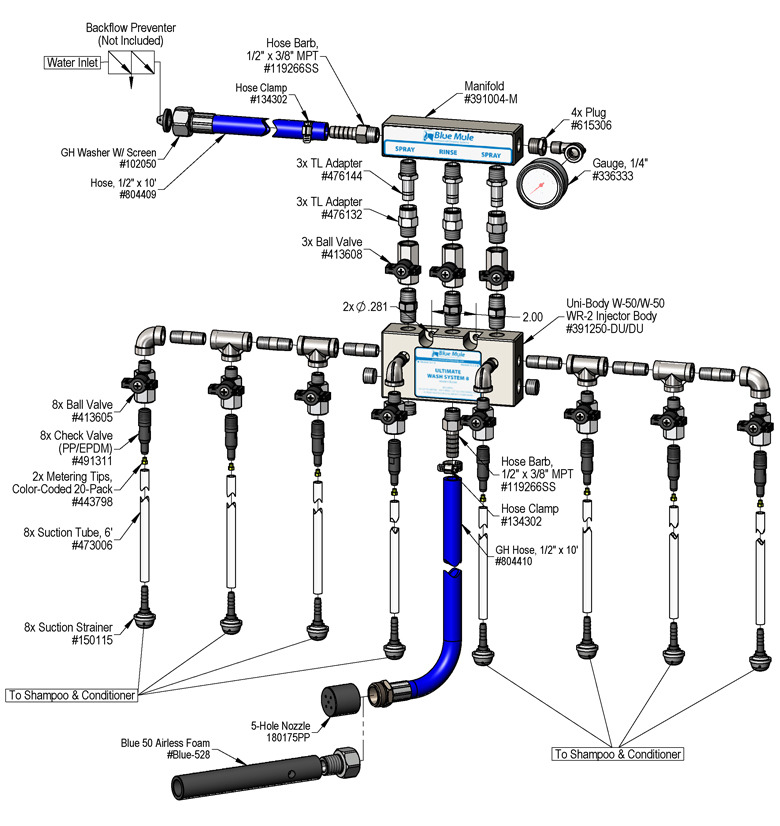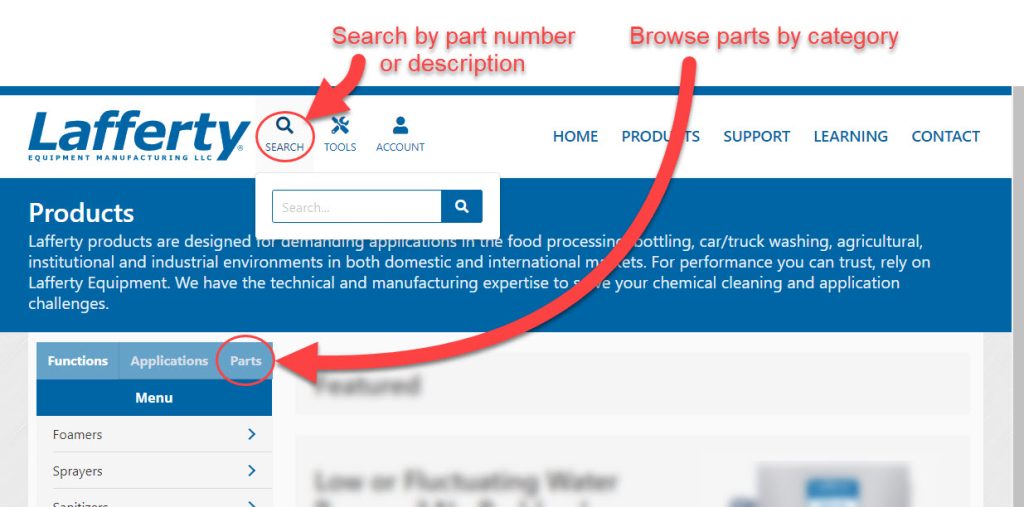 ---
---
Lawn & Garden Sprayers
Fertilizers and broad-application lawn-care products are different than cleaning chemicals because the dilution ratio (chemical strength) is not the critical factor. The goal is typically to throw down a certain volume of product per area. For example, the chemical label may specify 16 oz. of liquid fertilizer per 1,000 sqft.
The Spray-Alls in this section have a flow rate of 2.3 GPM @ 40 PSI water pressure. This moderate flow rate is ideal for quick coverage over large areas, and allows most small, suspended particles to pass through the body without interference.
The standard sprayer nozzle projects a 25-degree fan pattern, which offers a balance between wide coverage and distance. Optional alternate nozzles can provide longer-range or broader-area application. A focused nozzle will project chemical further, which is useful for shooting insecticide into tall trees and house/roof washing.
For more precise application and slower chemical usage rate, consider the low-volume Model 20 Compact Sprayer, which is shown above in this guide.
Nozzle options are ONLY compatible with the sprayer models listed.
Veterinary Sanitation
Many Blue Mule products have earned a role applying disinfectants and cleaning products in animal care facilities. Mixing Stations are perfect for filling handheld spray bottles, Pump Up Foamers, mop buckets, and more – while Compact Foamers quickly disinfect kennel runs. Lafferty offers all of this and so much more!