The foamer performance shown in the videos below is representative of our wide range of system configurations.
For example, the LC Foamer video is applicable to the core LC Foamer as well as the LCSS, LCDU, 2-Way LC, LCHC, Lock-Box LC, Acid LC, etc. These types of product abbreviations describe various design features.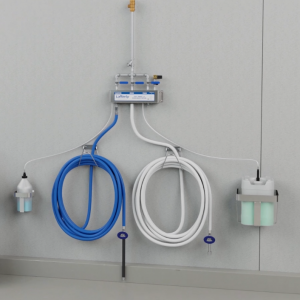 Machined polypropylene or stainless steel foamer bodies
Dual or multiple chemical pickups
High concentrate dilutions
Portable and wall-mounted
Drum mounted
Application specific features
Multifunction systems
And more!
Lafferty Hose Drop Stations combine one or more foamers with rinse and/or sanitize functions to simplify installation and operation.
Check out our Foamer Comparison Chart to and Foam Cleaning Overview to learn more. When you're ready, don't hesitate to contact us for personal product selection assistance.
City Water Pressure Foamers
(35-125 PSI)
Boosted Water Pressure Foamers
(125-350 PSI)
High Water Pressure Foamers
(400-1000 PSI)
Use the player below to select and watch videos from our complete Foamer Demonstration Showcase.